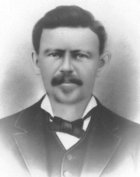 Jules was born in a small hamlet of Vieux-Bourg, Calvados in the region of Normandie, France to Elie Pierre Nicolle of Vieux-Bourg and Julie Joséphine Dubois of Mesnil-sur-Blangy, also in Calvados. He enlisted in the French Military, the class 1868. He served a year. Then in 1869, he married Désirée Joséphine Vitaline Galichet in Guerny of Eure in Normandie. Their first child, Vital "Felix" Constant was born in 1872 in Ivry-la-Bataille of Eure, Normandie.
From there, Jules and his new family, moved east across France, where Jules Nicolle worked various jobs as a laborer, hotel manager, weaver. In 1874, the couple had their second child; a girl, whom they named Louise Célestine. She was born in Saint-Germain-des-Prés in the department of Loiret, in the Centre region.
Between 1875 to 1880 their residences were in the departments of Marne, and then in Saint Mard, Luxembourg, Belgique. and whether they had another child is also unknown at this time. (There was a 'Henri Nicholl' listed on Leonie's youngest daughter's baptism record that lists him as Leonie's brother, but at this writing, I have not found any information on Henry Nicolle/Nicholl)

The next occurance came in 1880 with the birth of Léonie Joséphine in Saint Mard, in the province of Luxembourg, Belgium. My father wrote in his journal that Belgium is where the Nicolles and the Morenier family first met.
Jules and his family emigrated to North America. I've not been able to locate information on what ship Jules Nicolle and family sailed on, but according to Léonie Nicolle, they sailed out of Lilliers, France to New York between 1880 and 1882. On arrival, they traveled to Québec, Canada and onto to Sudbury in Ontario, where they settled for a while. For some unknown reason, they left Louise behind with relatives who treated her badly.
In 1883, Jules and Vitaline's son, Daniel, was born. At that time, Sudbury was newly incorporated, with mining and forestry as the main industry and occupations for new settlers.

At some point, the Jules Nicolle family moved to Saint-André d'Avellin, in Papineau county, Québec where the Moreniers had immigrated to. In 1886, Vitaline died leaving Jules with three small children. My speculation is Vitaline became ill in Sudbury, and Jules moved his family to Québec where their friends, the Morenier family lived who could help with the care of Vitaline and her small children. A year after Vitaline died, Jules married Justine Françoise Morenier, 3rd daughter of Philippe Alexandre Leopold Morenier and the late Marie Catherine Mahut in Saint André Avellin, 1887
Jules Nicolle moved his new bride, Justine Morenier, and his children, back to Sudbury. They had two children together in Sudbury. The first one, a son named Camille, was born in 1888 and died in 1889 from what we thinking was a drowning. The cause of death was written in Latin by the parish priest, and even an expert in Latin, could not tell me what he meant.

The next child was a daughter, Mathilda Florida. She was born in 1890 but died in 1891 on route to Michigan in Sault St. Marie, Ontario
The Nicolle family finally arrived in Princeton, in Marquette county, located in the upper peninsula of Michigan 1891. Jules was one of the first pioneers of that town and seemed to be highly regarded by the residents of Marquette County. He was employed as a Teamster.

Jules and Justine Nicolle had 5 more children. Emile b 1892, Maximillen 'Joseph' Leopold; b 1894, died 1895 from Cholera, Mathilda Audrienne (my grandmother) b 1898, Maximillen 'Albert' b 1899, and Bernadette Anne b 1904
Both Jules and Justine contracted small pox in autumn of 1915. Jules recovered, but Justine did not. After grieving and brooding for two months for his wife of 28 years, he took a shot gun and killed himself in his home. He was 68 years old. It was tragic and hard to understand why, since he still had young daughter living at home, he would do that to her. The youngest, Bernadette Anne, found him. He left behind Felix, Louise, Leonie, Daniel, Emile, Matilda, Albert and Bernadette Nicolle.
He is buried with Justine, in Gwinn Cementery, Forsyth Twp, Marquette, Michigan